Supporting a healthy creative ecosystem in Italy and throughout Europe
December 13, 2017
Fighting piracy is starting to look a little less like Bonnie and Clyde, and a little more like Erin Brockovich.
It has become a complex and lucrative illicit business in which unscrupulous operators profit by damaging Europe's creative ecosystem.
I had the honor of speaking out in support of a healthy creative ecosystem at the Giornate Professionali di Cinema hosted by Italian antipiracy group FAPAV in Sorrento on 30 November.
Federico Bagnoli Rossi, Director General of FAPAV, set the tone by noting that 39% of Italian adults had accessed illegal pirated content at least once in 2016 in order to watch their favorite entertainment. This data provides further confirmation that while a lot has been achieved already in Italy and across Europe, there is still work to do.
In my keynote, I talked about piracy as a form of pollution in our online ecosystem. It is a serious threat to the health of a European creative sector that employs 11 million people and generates EUR 914 billion in economic activity. It is not just Italy that is seeing numbers as high as 39% when it comes to piracy; every country in Europe is affected by this, without exceptions.
When it comes to stealing entertainment, the people who are behind these illegal websites do not discriminate – they will take anything that makes them money, foreign or domestic. Pirate services offer popular Italian, German, and French TV series, films, and live sports right alongside major international films.  This is a problem that all members of the global creative community must work together to solve.
Fighting piracy today require a multi-faceted approach that comprises
enforcement against illegal sites,
facilitating access to legal offerings, and
raising consumers' awareness about the issue and connecting that awareness with the value people place on their favorite films, music, TV shows.
Italy has shown a great capacity for innovation in all of these areas.  The AGCOM regulation to address online infringements is certainly an Italian success. Since its inception, AGCOM has taken action against 679 copyright infringing domains. AGCOM Commissioner Nicita conformed, in his remarks at the same event, that the agency intends to continue its leadership on this issue.
Italy is also a leader on awareness-raising initiatives with young people. The school project "RISPETTIAMO LA CREATIVITA" which helps young people make informed choices about how to create and legally consume music, movies and other forms of entertainment is for example just one of several innovative local initiatives that the MPA has helped to support.  Its objective is to encourage a culture of respect for creativity by promoting the use of legal online services.
With continued innovation, we can clean up the pollution.  While the film and TV industry is doing more than ever before, it is clear that any long-term solution requires a collaborative approach from all stakeholders on the internet which of course includes not only access providers, but also platforms and payment processors amongst others. We all have a collective, shared responsibility to be stewards of the creative ecosystem.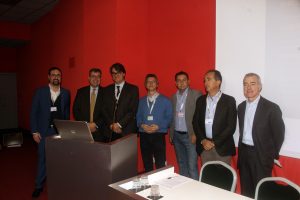 From Left to Right:
Federico Bagnoli Rossi, FAPAV General Secretary
Stan McCoy, President and Managing Director, MPA EMEA
Antonio Nicita, Commissioner Agcom
Mario Mazzetti, UNIC Vice President and responsible for the ANEC cinema office
Andrea Malucelli, President ANEC/AGIS Emilia Romagna
Andrea Stratta, CEO Uci Italia
Giampaolo Letta, VP and CEO Medusa
Photo courtesy of Giornate Professionali di Cinema