Promoting Sustainability in the Audiovisual Sector: FIAPF and MPA Join Forces at the 2023 Cannes Film Festival Roundtable
May 10, 2023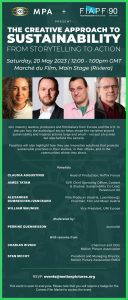 We are pleased to announce that, in collaboration with FIAPF (International Federation of Film Producers Associations), we will host a roundtable discussion titled "The Creative Approach to Sustainability – From Storytelling to Action" at Marché du Film – Cannes Film Festival. The event will take place on May 20 at the Main Stage (Riviera) from 12-1pm and will also be accessible online.
The debate, moderated by Le Film Français journalist Perrine Quennesson, will feature esteemed panelists including Claudia Augustinis, Head of Production in Netflix France; Alexander Dumreicher-Ivanceanu, Film Producer and Chairman at Film and Music Austria; William Maunier, Vice President of UNI Europa; and James Tatam, SVP, Chief Operating Officer, Content & Studios and Sustainability Co-Lead at Paramount UK.
During the conversation, panelists will discuss sustainability challenges and opportunities within the audiovisual sector. They will share their initiatives and commitments in adopting environmentally friendly practices both behind the cameras and on screen.
MPA EMEA President and Managing Director Stan McCoy will introduce the event and key remarks will be delivered by MPA Chairman and CEO Charles Rivkin.
Join us in this engaging discussion on May 20, either in person at the Main Stage (Riviera) or online, as we explore the ongoing efforts towards sustainability in the audiovisual industry!
***
About The Motion Picture Association
The Motion Picture Association Inc. (MPA) serves as the global voice and advocate of the motion picture, home video, and television industries. It works in every corner of the globe to advance the creative industry, protect its members' content across all screens, defend the creative and artistic freedoms of storytellers, and support innovative distribution models that bring an expansion of viewing choices to audiences around the world.
Its member studios are: Netflix Studios, LLC; Paramount Pictures Corporation; Sony Pictures Entertainment Inc.; Universal City Studios LLC; Walt Disney Studios Motion Pictures and Warner Bros. Entertainment Inc. Charles H. Rivkin is Chairman and CEO.
With its 100-year history, the Motion Picture Association (MPA) is one of the world's oldest associations for film, television and streaming industries.
About FIAPF
FIAPF is one of the oldest trade organizations in the film and TV sector. FIAPF is the only organization of film and television producers with a global reach. Its mandate is to represent the economic, legal and regulatory interests common to film and TV production industries in all continents.
FIAPF's members count 36 producer organizations from 29 countries. It operates as a platform of expertise and information sharing all year long.
The Executive Committee, elected by FIAPF Members every two years, is composed by producers and heads of producers' associations from all regions of the world.