Empowering Women in Animation through FIAPF's "Stories x Women" Initiative
April 26, 2023
Today we celebrate World IP Day 2023, and this year's theme "Women and IP: Accelerating innovation and creativity" is the perfect opportunity to highlight a program launched by FIAPF and Women in Animation (WIA) almost two years ago: "Stories x Women". The MPA is a member of FIAPF and many of our member companies are actively involved in WIA's activities.
I couldn't agree more with something that the MPA's Chairman and CEO Charles Rivkin said at the Berlinale that as an industry, it is not just our responsibility but also our privilege to reflect a more nuanced and authentic representation of our societies in the stories we tell. That is why I follow the "Stories x Women" initiative so closely.
This initiative specifically aims to empower women from underrepresented backgrounds. FIAPF and WIA bring a delegation of women animators from emerging animation production countries to the Annecy Animation Festival, the world's largest animation festival, and provide them with an opportunity to refine and commercialize their intellectual property.
This year's delegation for the Annecy International Animation Festival and Market will comprise several talented women creators from the 135 eligible countries in Africa, Asia-Pacific, and Latin America. The delegation will be announced this week.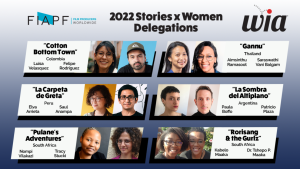 Last year's "Stories x Women" initiative selected projects and delegations from Argentina, Colombia, Peru, South Africa, and Thailand. Each project involved up to two animators, which had to include at least one woman leading the project.
Over the past decade, the MPA has been active on diversity, equity and inclusion issues, as demonstrated by our recent Berlinale D,E & I panel (see the press release and The Credits piece), and the global efforts undertaken by our members, as highlighted in The Credits' article. Therefore, when FIAPF launched "Stories x Women" we saw it as another great way to advance our joint commitment for better diversity, gender parity, and authentic cultural representation in our industry and the stories on screens. "Stories x Women" benefits from the financial support of The Walt Disney Company with additional support from Sony Pictures Entertainment, who joined the funders this year.
I can't wait to see the exciting projects that this year's delegation will showcase at the Annecy Animation Festival and Market!