100 years of MPA, 100 years of Transatlantic Cooperation (4)
August 11, 2022
Toward Postwar Renewal… Aboard a Scooter
"Birthdays aren't important when you don't have a real identity." – from the movie Hard Boiled, directed by John Woo
Ahhh, the Vespa. So practical. So cute.
Italy's postwar scooter sensation symbolized innovation and elegance in the face of adversity – and never more so than when being driven by Audrey Hepburn.
When Hollywood studios started postwar production in Europe, they joined forces with a wealth of local culture and talent, giving a welcome boost to European economies with optimistic stories and images of rejuvenation.
One of the best-remembered classics shot in Italy in the decade after the war was indeed Roman Holiday (1953, Paramount Pictures), featuring Hepburn's character Princess Ann navigating the streets of Rome on the iconic Piaggio-manufactured scooter, with Gregory Peck as Joe Bradley hanging on behind.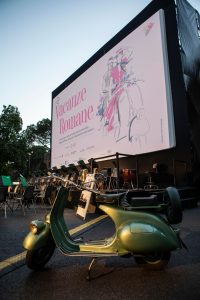 Filming took place entirely in the city of Rome and in the famous Cinecittà studios. The romantic comedy features many of Rome's most iconic tourist attractions and – word has it – helped sell more than 100,000 scooters (see here). And the film remains beloved by Romans to this day, as evidenced by the hundreds who recently braved the July heat for an outdoor screening organized by the Fondazione Cinema per Roma.
A dozen years after Roman Holiday, The Sound of Music (1965) became a sensation for 20th Century Fox, sparking one of the world's most durable legacies of film tourism.  And those were but two memorable drops in a very deep well of postwar creativity, innovation, and investment in film and television.  For example, the Cannes festival that the MPA had tried to help launch in 1939 came roaring back in 1946, joined in 1951 by a new US-supported festival in West Berlin – today's Berlinale.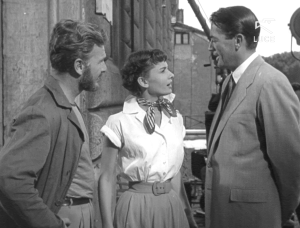 Film and television were critical to the postwar rebuilding of Europe, both culturally and economically, and inward investment films and film tourism played a part in that much larger story. And similar contributions continue to this day. For example: The HBO series Game of Thrones attracted 350,000 foreign tourists to Northern Ireland in 2018, who spent more than £50 million at various attractions around the Irish north coast and the capital, Belfast (see here).
Netflix produces many beloved TV shows in Europe and is now also promoting tours of the filming locations in London, Paris and Madrid (see here).
Tourism is only the tip of the iceberg, of course: According to a study by Ernst & Young, Europe's creative sector represented 4.4% of EU GDP in terms of total turnover in 2019, with turnover of €643 billion and a total added value of €253 billion.
You could call that a happy ending… but it's really only the beginning.
Photographs:
1) Roman Holiday movie posters: courtesy of Paramount Pictures
2) Screening of Roman Holiday in Rome: courtesy of Fondazione Cinema per Roma
3) Audrey Hepburn and Gregory Peck on the set of Roman Holiday: courtesy of Cinecittà studios