100 years of MPA, 100 years of Transatlantic Cooperation (3)
July 4, 2022
Hope and resilience in times of conflict
It is difficult to celebrate a birthday and to be optimistic about our industry's future during a time of war in Europe. At the same time, we can take some inspiration from the resilience of generations past.
The 1938 Venice film festival offered a foreshadowing of things to come, when the Mussolini-led government rigged the results to favor fascist countries. MPPDA representative Harold Smith resigned from the festival jury in protest.  In a contemporaneous letter, he recalled that "[t]he president of the jury made us understand what films would be given prizes and presented a list." Smith and the British representative "objected strenuously," but the fix was in.
"When a Sicilian wishes you 'Cent'anni', it means 'for long life'… and a Sicilian never forgets." – from: The Godfather, Coda: The Death of Michael Corleone
The next year, the MPPDA worked with the French and U.S. governments to plan the first Cannes Film Festival for September 1939, featuring The Wizard of Oz, Mr. Smith Goes to Washington, and other titles. The festival had to be cancelled at the last minute due to the fateful Nazi invasion of Poland (For more insights on this interesting period, listen to the comments of historian Olivier Loubes at the MPA 100 panel discussion at this year's Cannes Film Market here.).
Following the invasion of Pearl Harbor in December 1941, the MPPDA established its War Activities Committee, with a pledge of "all-out cooperation to our Commander in Chief in the fight for freedom."
Paul Kohner, an Austrian-American talent agent and producer, who founded the European Film Fund together with German director and actor Ernst Lubitsch and Carl Laemmle, head of Universal Pictures, helped many creators relocate from war-torn Europe to the United States.
Jack and Harry Warner, too, were active in the fight against fascism, as highlighted by Warner's 1939 movie Confessions of a Nazi Spy that openly criticized the German regime. Jack Warner was also a supervisory board member of the Hollywood "Anti-Nazi League".
In April 1944, the MPPDA's Smith gave a shortwave radio address into France as part of a series of broadcasts meant to encourage French listeners. Smith recalled: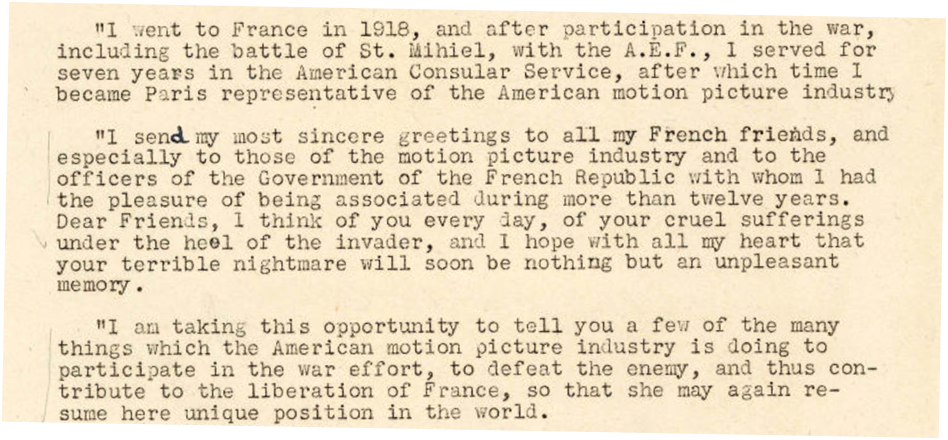 After the German surrender of 1945, Will Hays, who was soon to leave his MPPDA leadership post, sent a copy of his memoir to Louis Lumière, the founder and symbolic leader of French cinema.
The venerable Lumière wrote back with his thanks, saying that "the terrible years through which we have just passed have affirmed the great friendship uniting our two countries."
"I have had some hardships that my 81 years only allow me to recall with sorrow," Lumière recalled. "I shall tell you of that some day."
Photographs: Courtesy of the Indiana State Library, Will H. Hays collection, Rare Books and Manuscripts