Union Pacific -Retrospective Winner of the Palme d'Or for Best Special Effects in 1939
November 14, 2019
Union Pacific celebrates the great American epic of the nineteenth century: the building of the railway linking the East Coast of the United States with the Pacific in the years following 1860 during the Civil War. Two companies are in competition to complete this project. Following a decision by the American government, they are each tasked with building one half of the network.
While 'Pacific Express' concentrates on its mission, 'Central Pacific', the competing company, seems hell-bent on preventing its rival from realising its objectives. Corrupt financiers, among them the banker Barrows, speculators, bandits and political agitators all come into play to stop the work of Pacific Express…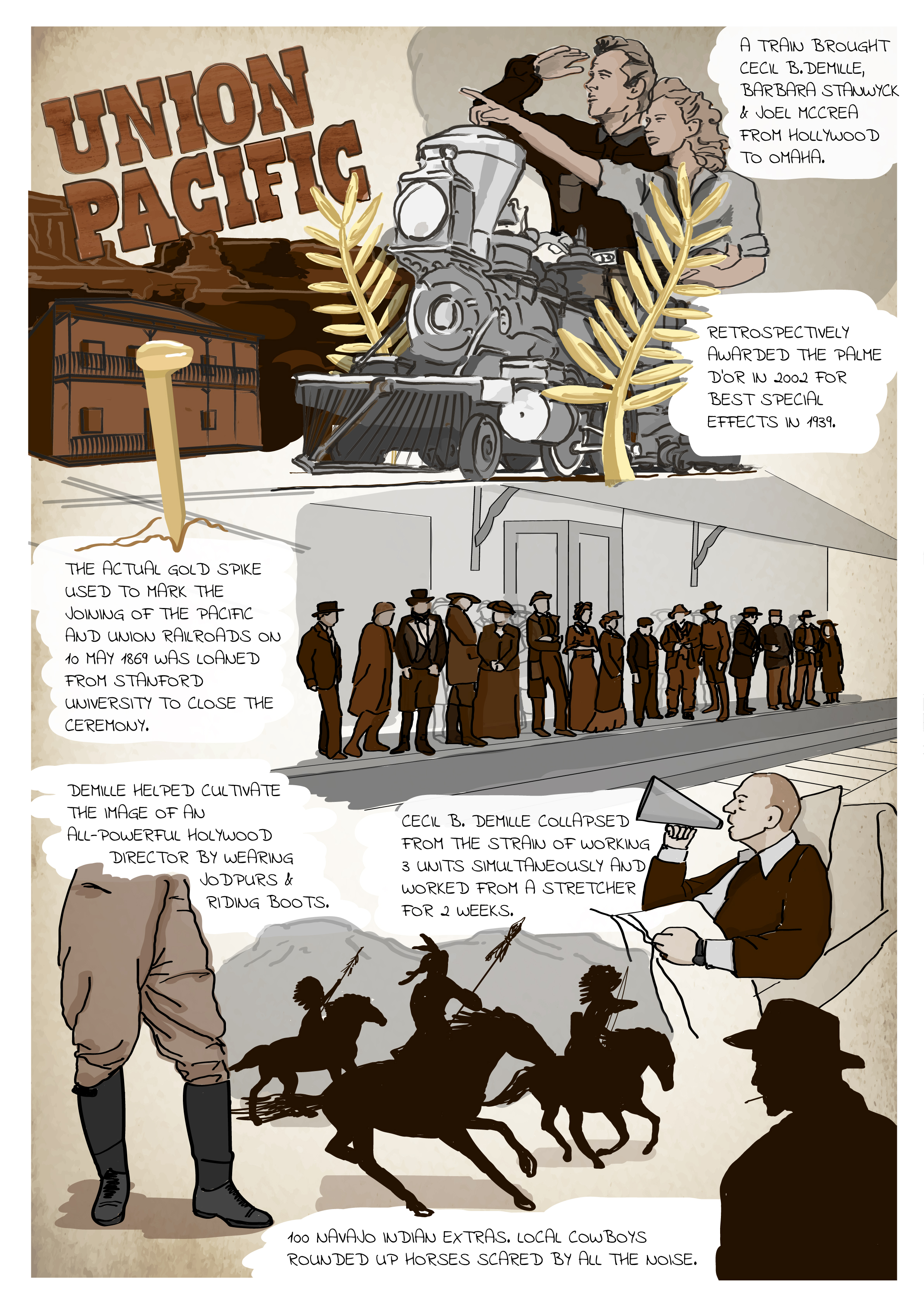 What did the critics say?
'Cecil B. DeMille's production of "Union Pacific," a labor, we understand, only slightly less herculean than the building of the railroad itself, has come to the Paramount the veriest bit behind schedule. "Dodge City" beat it to the Times Square terminal, so did "Stage Coach," "Let Freedom Ring" and "The Oklahoma Kid." Inevitably these other arias from the horse opera have made the song of the great open spaces unduly familiar. Still and all—and there is a great deal to its all—Mr. DeMille's little opus is a mighty fine movie, colorful, spectacular and of distinguished ancestry…Even when nothing is happening he manages to keep his screen alive. He stages a romantic dialogue on a hand-car hemmed in by grunting bison, a tender farewell in a caboose surrounded by whooping redskins, his sentimental death scenes in a gambling hell and beneath the smoking fragments of a wrecked locomotive. When he has a chance for real action, of course, the sky's the limit—Indian raids, shooting scrapes, brawls, fist-fights, train robberies, fires, chases and trestle-breaks…when Mr. De Mille insists he has history on his side—demonstrating it by the complete documentation of every spike, shovel, costume, engine number and war-bonnet in the film—we know he is thinking of screen history, too. For he is one of our favorite traditionalists and we would not have him otherwise.'
—  Frank S. Nugent, 'The screen in review : Cecil B. DeMille Continues His Historical Roadwork With Union Pacific Opening at the Paramount', The New York Times,  11 May 1939.
What will you say?
Interested in seeing Union Pacific as it would have been showcased in 1939? Head to Cannes 39 festival in Orleans this 12-17 November.