The Wizard of Oz (And Special Effects!)
November 11, 2019
One of the most famous musicals on the globe, Judy Garland stars as Dorothy Gale in The Wizard of Oz, a young Kansas farm girl who dreams of a land "somewhere over the rainbow." Dorothy's dream comes true when she, her dog, Toto, and her family's house are transported by a tornado to a bright and magical world unlike anything she has seen before…
Up for Best Picture in 1939 and now in glorious 4K resolution, catch Warner Bros.' The Wizard of Oz at Cannes 39 festival this 12-17 November and check out what made the Special Effects in the movie so special…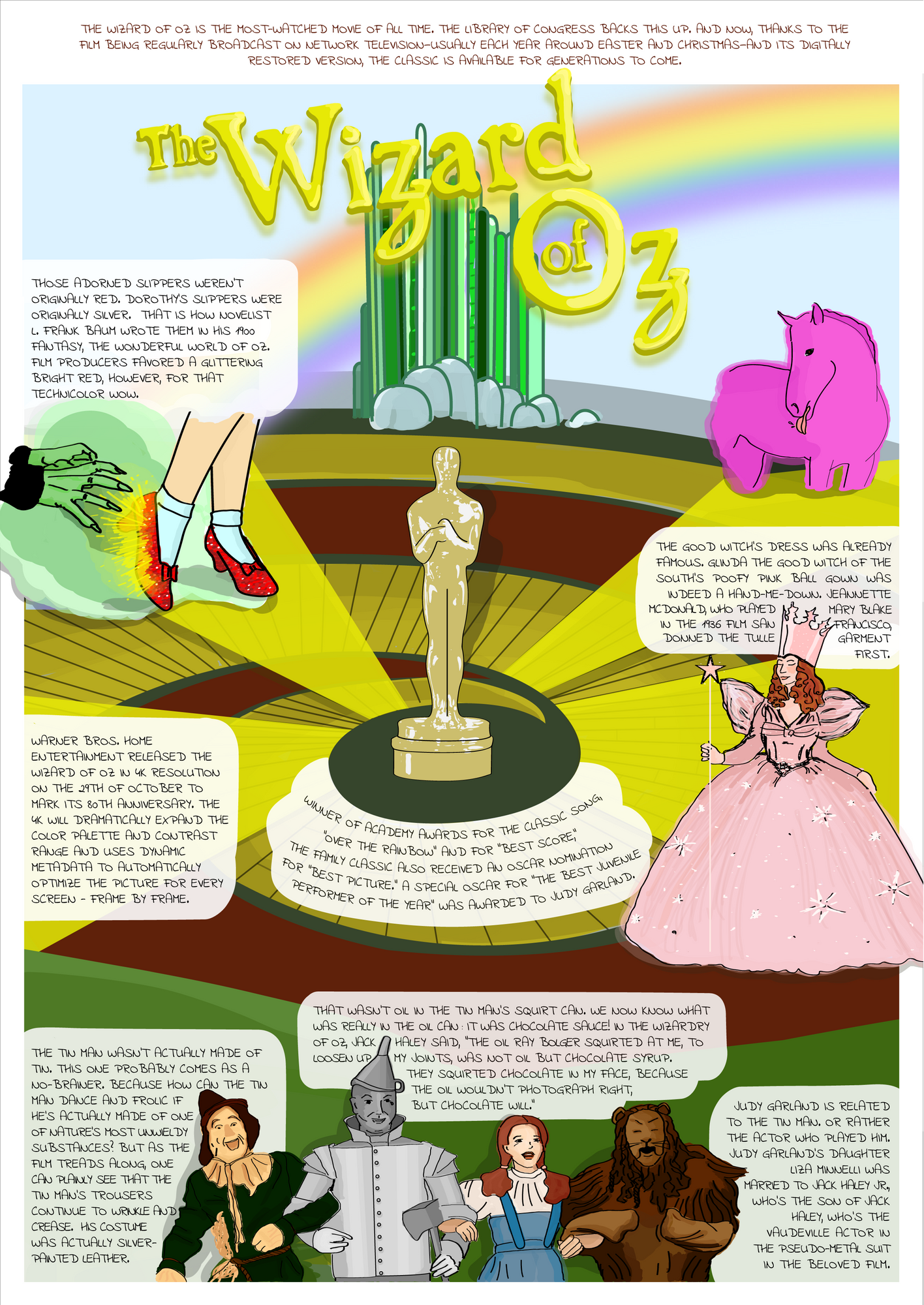 Did You Know?
Those adorned slippers weren't originally red. Dorothy's slippers were originally silver.  That is how novelist L. Frank Baum wrote them in his 1900 fantasy, The Wonderful World of Oz. Film producers favored a glittering bright red, however, for that Technicolor wow.
Frank Morgan played not one, not two, but SIX characters in The Wizard of Oz.  He portrayed the shady Professor Marvel in the Kansas scenes (and was only billed for that role in the credits), not only showed up in Oz as the Wizard, but also as the uppity Doorman to the Emerald City, the Horse-of-a-Different-Color-owning Cabbie, and the snippy (later, sobbing) Wizard's Guard. Plus dubbing the voice of The Giant Head of the Great Oz!
The Good Witch's dress was already famous. Glinda the Good Witch of the South's poofy pink ball gown was indeed a hand-me-down. Jeannette McDonald, who played Mary Blake in the 1936 film San Francisco, donned the tulle garment first.
Judy Garland is related to the Tin Man. Or rather the actor who played him. Judy Garland's daughter Liza Minnelli was married to Jack Haley Jr., who's the son of Jack Haley, who's the vaudeville actor in the pseudo-metal suit in the beloved film.
The Wizard of Oz is the most-watched movie of all time. The Library of Congress backs this up. And now, thanks to the film being regularly broadcast on network television—usually each year around Easter and Christmas—and its digitally restored version, the classic is available for generations to come.
That wasn't oil in the Tin Man's squirt can. We now know what was really in the oil can: It was chocolate sauce! In The Wizardry of Oz, Jack Haley said, "The oil Ray Bolger squirted at me, to loosen up my joints, was not oil but chocolate syrup. They squirted chocolate in my face, because the oil wouldn't photograph right, but chocolate will."
The Tin Man wasn't actually made of tin. This one probably comes as a no-brainer. Because how can the Tin Man dance and frolic if he's actually made of one of nature's most unwieldy substances? But as the film treads along, one can plainly see that the Tin Man's trousers continue to wrinkle and crease. His costume was actually silver-painted leather.